We are where your Napa Valley adventure begins! Located in southern Napa County, California, American Canyon is home to a diverse community populated by unique businesses such as Mezzettas and the Wallaby Yogurt Company. American Canyon is also key to the wine industry with cooperages, label makers, and numerous warehouses that store wine before it is shipped. Beyond the business elements, the city boasts scenic views from Newell open space to the east down to Wetlands Edge along the Napa River; and is a key link in the regional trails system with three separate trails transiting through town.

We know that when our local businesses thrive our community prospers. It is our mission to be a catalyst for business growth and development.

We exist to be:

The Catalyst for business growth,
The Convener for leaders and influencers,
And the Champion for a stronger community.



To stay focused on achieving our mission, we set GOALS
"Growth is never by mere chance; it is the result of forces working together." -James Cash Penney
Chamber Ambassadors welcome new members to our chamber and staff our mixers and events.
Our Board of Directors volunteer their time to meet once a month to strategic plan and track chamber objectives and plans.
We offer opportunities for our members to:
Network with other businesses at our monthly mixers
Promote their business
Sponsor events
Post job openings, member to member deals, hot deals for the community and news on our website
...and more!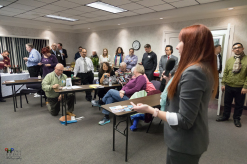 We work closely with our city to be the collective voice of business.
The Chamber organizes 2 business groups that meet quarterly; the GRID (Green Island District) and the CORE (HWY 29 Corridor).
Our Government Affairs Committee (GAC) gathers monthly with city, state and federal government representatives
We take the lead to serve our businesses and community.
Our Economic Business Development Committee meets monthly
We organize and operate an Annual Small Business Conference, Buy Local Campaign, the Welcome Center and more!