Welcome to the beautiful city of American Canyon; the gateway to the Napa Valley.
AMERICAN CANYON CHAMBER OF COMMERCE
The American Canyon Chamber of Commerce is a  catalyst for business growth and development, a convener of business leaders and influencers, and a champion for a greater American Canyon. We know that when local business thrives, our community prospers.
The American Canyon Chamber is open Monday through Friday from 10:00am - 3:00pm.
We need your help!  We have opportunities throughout the year to bring amazing events to our community.  Email us to let us know you're interested.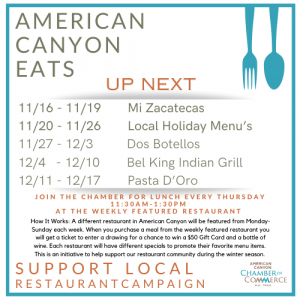 Supporting our local restaurants In an ongoing effort to stay true to our mission, the American Canyon Chamber of Commerce is launching a local restaurant campaign featuring different local restaurants weekly from October 2023 to March 2024. We understand…
"I thought the Candidates Forum was an excellent event, and better attended than I anticipated. Western Wine Services, Inc. was pleased to be a sponsor, and I consider it money well spent. It show-cased the Chamber, and I hope the Chamber repeats the experience for future elections. It was interesting to meet the Candidates and hear their views, which were diverse. From a business perspective, I felt the questions were right on the money and addressed the concerns of the business community."
- Steve Waller, Western Wine Services Inc.
"It was great to have the chamber do our ribbon cutting. They introduced us to the Mayor and other city leaders who have become some of our faithful customers. We also met other local business leaders. Thank you American Canyon Chamber of Commerce for the warm welcome to the community!"
- Nick Bhatt, Dunkin Donuts
"Through the Chamber, I was introduced to one of their networking groups. The fun group gives me faith, strength and encouragement to grow my business. Because of these new connections, I was able to give back to the community by making a special cake for the Boys & Girls Club Grand Opening and another for the Evening at the Ruins Gala. I've also made several cakes for other Chamber Members. I'm so happy I joined the Chamber. I've lived in this City, but now truly feel part of the community."
- Dorothee, Petite Sweets
"The Chamber helps us build relationships with many business contacts including key leaders in the community. It provides an arena that encourages interaction and generates genuine conversation without feeling a sense of solicitation. Because of our participation at events, we have identified our strengths, know our limitations, and continue to work to further define our brand."
- Fayza Hamid & Tiffany Schembre, doTERRA Wellness Advocates
"The Power of Association! The American Canyon Chamber of Commerce is one organization that serves with excellence, professionalism and integrity. They serve the business community and engage our youth and families too! In this unique community, there are many great professionals in this organization that give back to the community. It's core values are absolutely in alignment with how I choose to do business. I highly recommend any business to become a member!"
- Kasama Lee, Community Realtor with Berkshire Hathaway HomeServices
"Building relationships is key to business. The Chamber does an excellent job with creating those both with our hotel and with our guests. During peak season, the Chamber operates a mobile Pop Up Welcome Center that helps our guests become familiar with American Canyon and Napa Valley. Additionally, the Chamber has provided us with local dining guides that also enhance our guest's experience while staying in American Canyon."
- Kenta Kamohara, General Manager Holiday Inn Express & Suites
"I know while I am focused on my business, the Chamber is advocating for us. The Chamber keeps their eyes on the 30,000 foot view of American Canyon. If there is something that business need to be aware of, they let us know."
- Bill Harper, Valley Wine Warehouse
Community Impact Partners